Brand: DDC Dolphin
The Pulpmatic Uno is capable of processing 1 to 2 medical pulps per cycle, it provides a quieter, economical solution where maceration is a requirement, but demand is minimal.
The unique 7 bladed technology provides rapid, low-noise maceration for minimal disruption to a small ward setting, with a cycle lasting just 65 seconds.
Benefits
Benefits
Reduces cross contamination of infectious diseases and minimises the risk of ward outbreaks, keeping staff and patients safe.
Saves clinicians' time and increases productivity by reducing the need for cleaning of reusable items.
Exceptionally economical, using little water and energy to operate.
Reduces hospital budget spend with low operating costs and prevents ward shutdowns due to infections.
Features
Small capacity – Disposes of 1 to 2 medical pulps per cycle – suitable for low demand environment or isolation wards.
Rapid 65 seconds per cycle – Saving clinicians time.
Advanced 7 bladed technology – Pulverises medical pulps into tiny particles, ensuring all waste is eliminated.
Completely hands-free, no touch operation – Reducing the risk of infections spreading to clinicians and patients.
Continuous, free flowing output of waste to drain – Ensuring thorough removal of waste.
High quality materials and components – Antimicrobial coatings with smooth, crevice-free surfaces, reducing the presence of trapped harmful bacteria.
Automatic drain flushing – Programmable, limit the build-up of stagnant water for low usage and removes the possibility of Legionnaires' disease.
Antimicrobial technology in lid coatings – Stopping the growth of harmful bacteria.
Various start options – To suit each facility's requirements, ranging from self to auto start.
Pre & post maceration self cleaning flush – Limits the residual build up within the waste pipe network and prevent blockages.
Specifications
General
Capacity                                                          1 to 2 pieces of medical pulps
Operation cycle time                                    65 seconds
Decibel rating                                                 < 58.9dBA
Dimensions (w x d x h)                                 400 x 510 x 975/1260 mm (lid closed / opened)
Weight                                                             65kg (machine only)
Electrical
AC Voltage                                                     230V / 50Hz with dedicated 13A breaker
Circuit protection                                         30mA RCD, GFI, IEC60364 compliant
Rated power input                                       0.8kW
Electrical consumption per cycle               0.001kW
Motor power                                                 0.75kW
Pump power                                                 0.125kW
Water
Water connection                                         ¾" BSP male fitting required (washing machine hose)
Incoming water pressure                            Cold water 0.5 to 6 bar
Water flow rate (Min)                                   10L per minute at 1 bar
Water storage tank capacity                       Approximately 15L
Water consumption per cycle                    Approximately 9.7L
Discharge pipe                                              Ø50mm (Connects to Ø100mm soil pipe)
Connection                                                    Connects to building facilities' Ø100mm soil pipe
Overflow connection                                   Ø22mm
Disinfection
Detergent                                                       neuDolphin, EcoCleanse disinfectant
MircobeSafe antimicrobial surface            Top lid cover, permanent
Disinfectant bottle volume (external)        5L
Disinfectant dosing (per cycle)                    8mL
System
Self cleansing                                                 Automatic
Pulp discharge size                                       Average 2mm diameter (Anti-choke)
Lid default position                                       Closed (Automatic)
Note: Specifications subject to change without notice.
Outline
Outline Dimensions of Pulpmatic Uno Macerator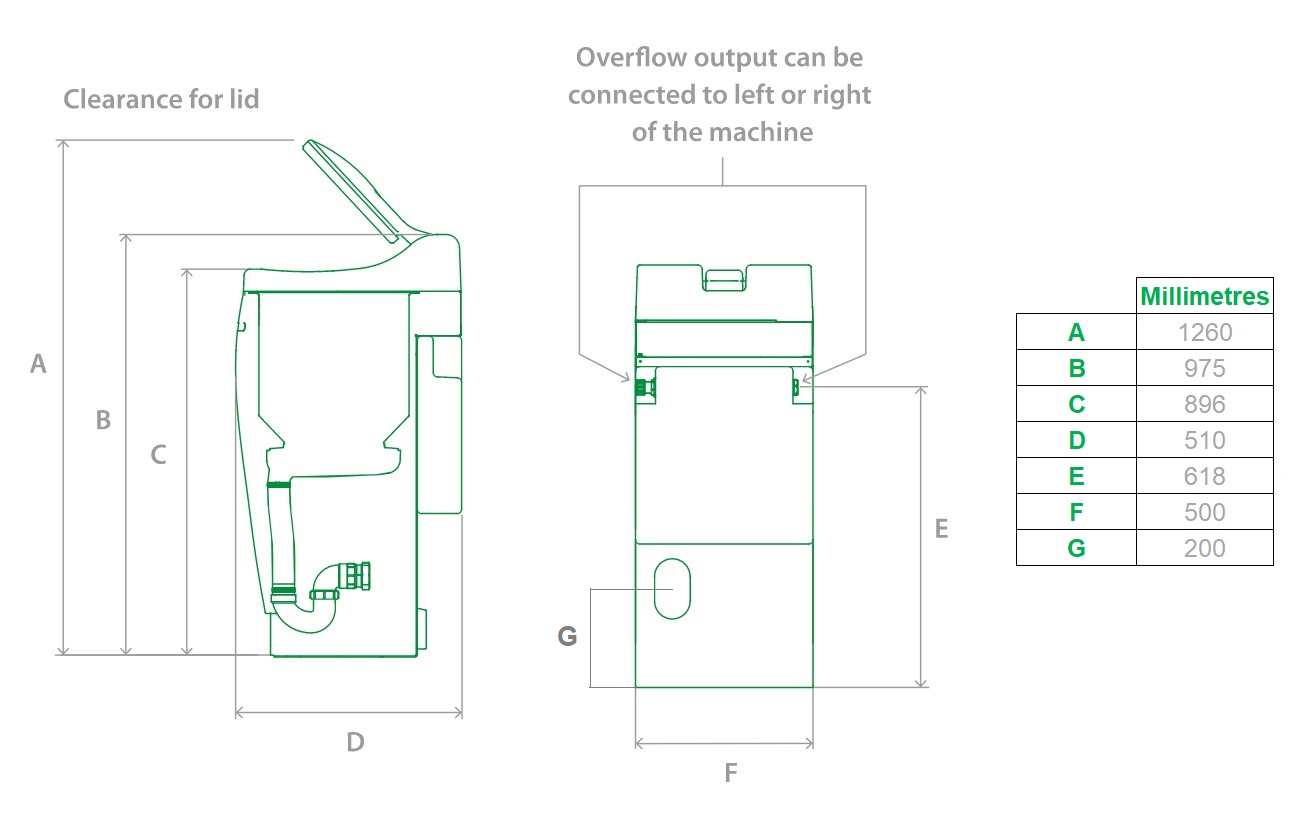 Note: Specifications subject to change without notice.