Plastic Male Urine Bottle Green with Attached Lid 1200ml
Brand: NEU
The reusable thermoplastic male urine bottle is ideal for male patients or users confined to bed or with limited mobility. The wide opening enables entry and is easy for cleaning and drying after use. The attached lid when covered, prevents unpleasant smell and limits spillage.
The contents should be emptied in the toilet after use. The thermoplastic male urine bottle can be washed up to 135°C.
Specifications
Material                                  Thermoplastic
Colour                                     Green
Capacity                                  1200ml
Graduation markings           Up to 1000ml, interval 20ml
Lid cover                                 White lid cover secured to handle (does not drop off)
Opening                                  Ø60mm
Dimensions                            220 x 130 x 100 mm
Weight                                     0.14kg
Note: Specifications subject to change without prior notice.
User Guide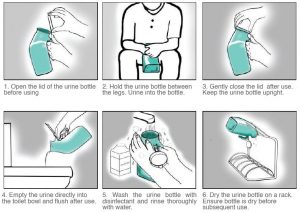 Male urine bottle can be used in a range of positions while in bed or laid on the sofa. Many people use these when they are recovering from an extreme operation. The design of male urine bottle is easy to use, safely and hygienically collecting urine.  The contents of the male urine bottle should be emptied in the toilet after use.